Hydraulic Moulding Press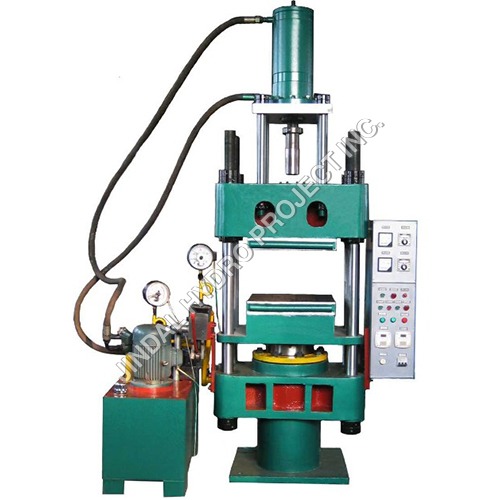 Hydraulic Moulding Press
Product Description
Today Jindal Hydro Projects Inc. Compression Moulding Presses are preferred by leading Industries across the globe because of unmatched features, high quality, heavy duty construction & performance of these Presses. Jindal Hydro Projects Inc. manufacture these Presses with an uncompromising Quality attitude & providing outstanding services worldwide. Jindal Hydro Projects Inc. Engineers are Competent enough to accommodate customer's suggestions & design the presses meeting all requirements as per International standards. In these presses, the Ram / slide / moving platen moves in upward direction (from Bottom Home Position to upward position). We have standard models & make these presses as per customer's specifications & requirement too.
The low noise hydraulic power pack unit is designed as per international practices & assembled with internationally accepted make valves & other components. The presses are designed as per ISI guidelines, hence standard seals in heavy duty cylinders, bronze- bushes with lubrication arrangement are used.
The precisely honed carbon steel seamless tubes are assembled with hard chrome plated piston rod, international quality sealing elements uses in this machine
Manifold block mounted valves minimizing piping, hence no leakage & easy replacement & maintenance.
With the help of PLC no. of breathings, breathing duration even in milliseconds, curing time, temp. Of platens, temp. Variation range, desired pressure etc. may be programmed in the PLC.
Trade Information
10 unit Per Month

1 Months